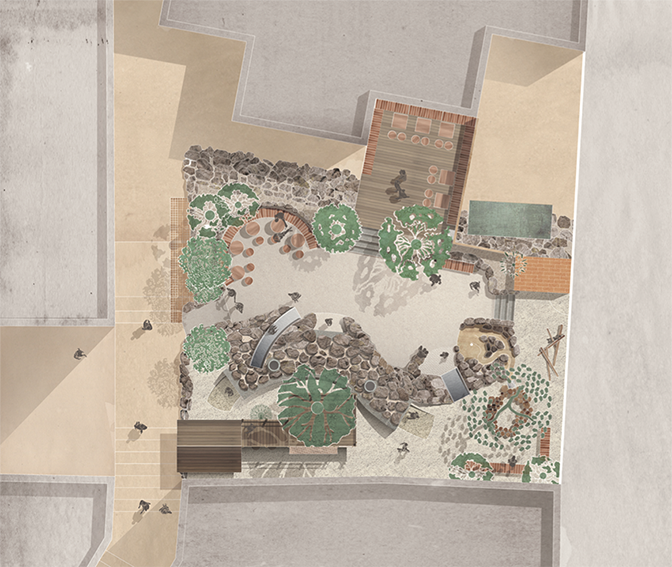 We had a small interview with MAHA ISSA the landscape architect behind our new project "Saifi Gardens Playground"
What can you tell us about Saifi Gardens playground?
We had worked on Saifi urban gardens landscape some 10 years ago, and we were very happy when we were asked to re-work on the garden and turn it into a playground.The site is interesting because it is man made: initially the level of the natural terrain is much lower and has been raised using rubble, large rocks, and soil. The nature of the site set the concept: creating a natural playground using the topography itself. The experience we would like to offer the children when playing there is a small adventure including being perched up in a tree house, hiding within a tunnel, balancing on wood stomps and logs, swinging and net climbing.
When did it all started?
We started discussing the idea of a playground and design approach a few months back.. we are now in the process of excavating the site. When will it be done? The works are experimental and based on trial and error. Which makes it an interesting hands-on experience that can be adapted to the findings on site. We should be within 2 months or so.
What was your source of inspiration ?
Being parents to young children, the main inspiration is watching them play and observing the games they find most challenging and interesting.
Can you tell us more about the benefits?
The client not only wanted to cater for the users of SUG, but also wanted to offer the neighborhood a multifunctional space. Small events (concerts, plays) can happen there in addition to casual seating. First and foremost it is an urban open space that is part of the neighborhood.
How do you feel working on this?
In our practice, we are very much interested in play areas for children as well as in increasing freely accessible spaces for all. SUG playground combined both interests, we are very happy to be part of this. September 2019